Astor Donors Give Over 1,200
Kids & Families a Brighter Holiday
More than 1200 children and families had happier holidays in 2010 thanks to donors who took part in Astor's Adopt-A-Family program.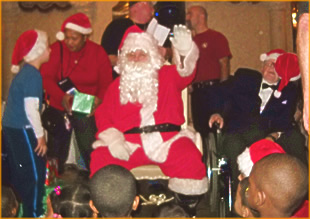 Thanks to the many individuals, schools, youth groups, churches and businesses who "adopted" children and families through Astor Services for Children & Families 2010 Adopt-A-Family program, the holidays were warm and merry for some of Astor's neediest children and families.
Once again this year, the community showed its support in many ways: gifts were collected from workplace toy drives and churches; many companies and individuals adopted families or children and donated toys, home goods, and other items. In all, over 1,200 children and parents had a brighter holiday season this year due to this tremendous outpouring of care and generosity.
Some families and organizations adopted all the children in an entire Astor program, purchased and delivered gifts, and provided entertainment for the children.
I am in awe of the generosity and kindness of our donors who truly made this holiday season a memorable one for our children and their families. I want to thank all our past and new donors who participated in this program that truly makes a difference in so many lives. It shows how our community cares about children and families who are in need. We, at Astor, truly appreciate the community's continued support.
said James McGuirk, Ph.D., Executive Director/CEO of Astor Services for Children & Families.
Astor extends its heartfelt thanks to all the individuals and anonymous donors who helped out this year, as well as to the following organizations for their generous support and compassionate dedication to the success of our community's families:
To request a change or correction of any of the URLs listed above,
please contact the Astor webmaster.