(See also: Training Events)
Astor Events Calendar
A Luxurious Taste of the World - November 1, 2014
This past summer, as part of their studies, the seniors at The Culinary Institute of America visited various countries around the world to experience their cuisines, wines, and cultures. These countries include Mexico, China, Italy, Spain, and France. They now present a student-run event to share their experiences along with what they learned at the CIA.
Date: Saturday, November 1, 2014.
Time: Reception begins at 5 p.m.
Reception: Cocktail reception and silent auction: 5–6 p.m.; five-course dinner: 6–9 p.m.
Dinner: Ristorante Caterina de' Medici, banquet-style seating.
Attire: Semi-Formal.
Charity: Astor Services for Children and Families.
Scholarship: Bachelor's of Professional Studies Scholarship Fund which provides financial aid to students enrolled in the CIA's Bachelor degree program.
Price: $125 per person, includes all beverages, taxes, and service charges.
Entertainment: The Will Smith Trio, renowned jazz combo.
Please Note: This event is limited to 120 guests and CIA Gift cards/certificates are not redeemable at this event.
Reservations: Reserve your seats now! For questions about the event, please call 845-905-4651.
Proceeds from the dinner and silent auction will benefit Astor Services for Children & Families and the Bachelor's of Professional Studies Scholarship Fund at the CIA.
---
St. Nicholas Holiday Fair - December 7, 2014
'Tis the Season
All are welcome in joining us for our annual St. Nicholas Holiday Fair on Sunday, December 7, 2014 from 9:00 AM to 3:00 PM at 6339 Mill Street in the village of Rhinebeck.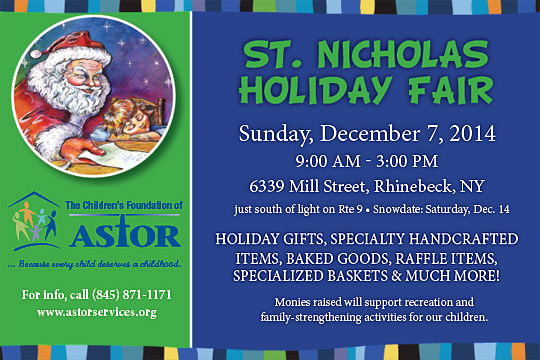 The children, staff and volunteers at Astor work year-round to create specialty, handmade crafts for this Fair. Included in the Fair are specialized baskets, ornaments, baked goods and much more!
All proceeds will support recreation and family strengthening activities for the children.
When:
Sunday, December 7, 2014
9:00 AM - 3:00 PM
(Snow date is Sunday, December 14.)
Where:
6339 Mill Street
Rhinebeck, NY
(Just south of the light on Rte 9)
---
Astor Parent & Caregiver Support Group
A Support Group for Parents and Caregivers of Children in Astor's Programs.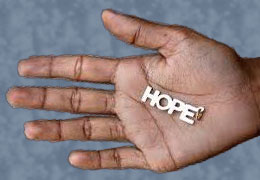 The Astor Family and Caregiver Support Group is a stigma-free community where adults can share their daily frustrations and triumphs in a supportive and encouraging environment, while learning new strategies from each other to deal with these challenges. The group will consist of discussions on a variety of topics, occasional guest speakers and social networking.
Upcoming meeting dates and times:
Sunday, Jan. 4th @ 1:30 pm – 4:30 pm
Reservations are required!
Location:
Astor Services
6339 Mill Street
Rhinebeck, NY 12572
To register, or for more information contact one of our Family Advocates:
Evelyn Almeida 845-871-1161
Lisa Flynn 845-871-1054
Due to limited space, if you are planning on visiting with your child after the meeting, please call us a couple of days in advance to make arrangements.
We regret that childcare is not available and children are not permitted to attend the meetings.
Refreshments will be served.
Click here for a printable flyer with dates and information.
---
CONTACT US for tickets or information about an event.
see also: Training Events