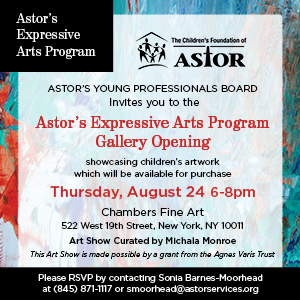 View a collection of childrens creative works from Astors Expressive Arts program, curated by Michala Monroe.
A show featuring Astors Expressive Arts Program.  This program focuses on works that allow children with Mental Health challenges to tell their stories and share their feelings thru various art projects.   
This show was made possible by a grant from the Agnes Varis Trust. 
Date:

Thursday August 24, 2017

Time:

6:00 pm - 8:00 pm

Location:

Chambers Fine Art
522 West 19th St,
New York NY 10011


For more information:

Featuring:

Some of the artwork being shown will be available for purchase.

Tickets:

This is a free event.
For more information about this event, or to become a sponsor:
please contact Sonia Barnes Moorhead or phone (845)871-1117