Astor Services for Children & Families is much more than simply the "home for children" which we were at our founding in Rhinebeck, NY in 1953. Today, with locations around New York State in Dutchess County, Ulster County, Orange County and the Bronx, Astor offers support as diverse as the communities and individuals we serve.
Meeting The Needs Of Our Communities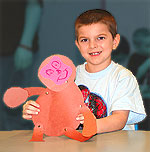 Astor understands the ever-changing needs of communities and is continually assessing and surveying its constituents to identify these changes. We are proactive in augmenting current programs and designing new ones to meet specific needs. In this way we can provide the highest quality and most effective mental health services for children and their families in the least restrictive setting for effective intervention.
Family Driven Care
The youth and family voice are essential perspectives in all of our programming.
Astor youth can participate in one of our three age-grouped Youth Groups, where youth meet monthly to participate in skill building, advocacy and social activities.
Parents and caregivers of children in Astor's services are welcome to join our Parent/Consumer Advisory Board, which meets monthly. The Advisory Board members review and give input to agency policies and procedures, advocate and outreach for children's mental health services in the community, and provide support and networking for each other. Our goals include expanding opportunities for children and families for education, advocacy, social and recreational activities.
Programs Overview
Early Childhood Development Programs
Astor's range of services begin with our early intervention preventive programs which focus on fostering healthy growth and behavioral development.
Astor's early childhood development programs provide comprehensive child care benefiting the entire family. We are a leader in providing Head Start and Early Head Start services, Maternity and Early Childhood Outreach Programs, and other programs which serve the behavioral health needs of the youngest children in our communities. We work to identify behavioral health concerns as early as possible, and to give families the assistance they need to manage them.
Community-Based Mental Health Programs
A primary goal at Astor is working to keep children with behavioral health needs at home with their families and in their regular schools whenever possible. Our community based behavioral health services are designed to enable youngsters and their families to manage difficulties while remaining together in their homes.
Our counseling centers provide children and families the guidance and assistance they need to work through their problems while staying at home and in school. When behavioral health problems interfere with regular schooling, our day treatment programs aim to provide short-term alternatives to regular schooling, help children and families learn how to handle their difficulties, and return children to school as soon as possible.
Residential Treatment Programs
Residential treatment services at Astor are designed for those children who require a level of care that provides intensive and continuous therapeutic interaction in a controlled and structured setting. Like our other programs, these strive to help children and families understand and cope with behavioral and emotional problems, to help children grow stronger and happier, and to enable children to return to their own families and communities.
Explore one of our main service areas: