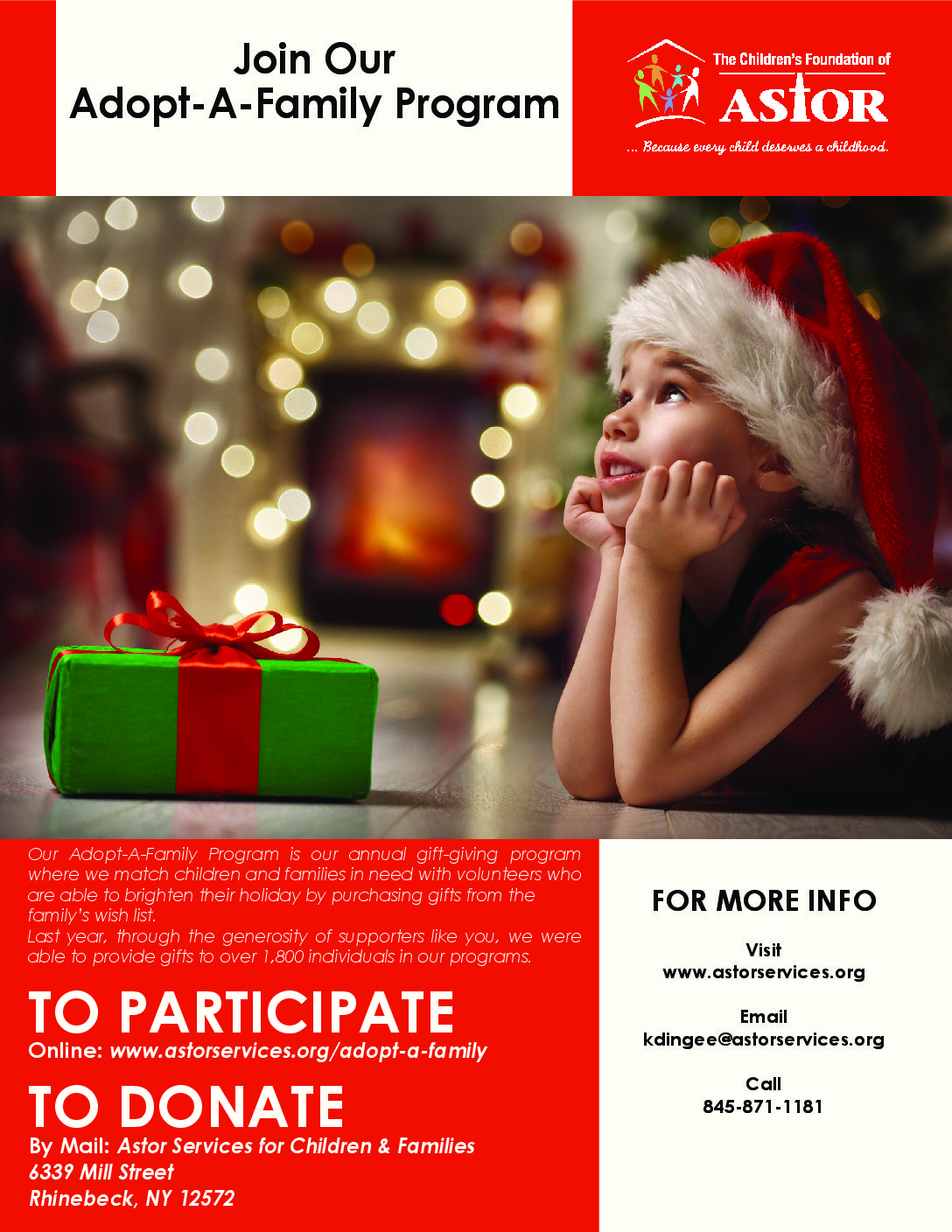 This holiday season, give a gift that will truly brighten the lives of children and families in the
Hudson Valley!
Throughout the year, Astor Services for Children & Families provides support for thousands of children and their families throughout the region.
Astor is looking for help from the community to ensure those children have a fulfilling and enjoyable holiday season. The agency is seeking donors for its annual Adopt-A-Family program and for ongoing support for its Adopt-A-Classroom program.
Groups or individuals are asked to help provide holiday food and presents for one or more families of children who receive Astor's services.
How does the program work?
Once you complete and submit your Participation Form, our staff will match you with a family in one of our programs.
You will be provided with a list of each family member's sizes, needs, wants, and their Astor contact should you have any questions. This list will be e-mailed to you and also mailed to your home address.
Each gift must be tagged with the appropriate "Personal Code." There will be labels with this code inside the packet you receive..
The gifts must be dropped off at Astor's Residential Treatment Center (6339 Mill St., Rhinebeck NY) between December 9, 2016 and December 11, 2016 (8 a.m. – 8 p.m.).
How do I participate?
Please contact Sam Lowe at (845) 871-1171 or click here to send her an e-mail.
You can also fill out the following form to become a sponsor today! Please click here if the form does not load on your browser.
Frequently Asked Questions
How do you identify the families in this program?
All the families enrolled in this program have children who are participating in one of the many behavioral health programs we offer at Astor. These families are living at or below the poverty level. Many of the families who seek our services are suffering economically, and we believe it is important, especially for the children, that they are able to celebrate the holidays like everyone else.
Can we meet the families we sponsor?
Due to the nature of our services, we are not legally able to provide you with client information. Therefore, we do not allow sponsors to deliver gifts to a client's home. However, you are more than welcome to come and take a tour of one of our facilities and meet some of our students. If you would like to take a tour please contact Samantha Lowe at (845) 871-1171.
Should we wrap the presents?
We do not require that the gifts be wrapped. If they do come wrapped, many of our programs gently unwrap each gift to review its content. If possible, please consider donating wrapping paper with your gifts. This allows parents to get involved with the gift-giving process.
Can we get clothing sizes for all the family members?
After your entry form is received and processed, we will send you a spreadsheet via e-mail and the Postal Service that outlines each family member's shirt size, pant size, shoe size, store department, specific needs and holiday wishes. You will also be provided with contact information for the Astor staff responsible for your family's case.
Do I have to get everything on the list Astor provides?
While we provide a list of the client's needs and wishes, we don't expect every donor to be able to purchase everything on the list. Please only buy what you can—we are appreciative of anything you can do.
Can I just send gift cards?
Absolutely. If you do not want to purchase gifts for a specific family you can purchase gift cards, which our staff will then use to purchase gifts for families.
Are my donations tax deductible?
Astor Services for Children & Families is happy to send you an acknowledgment of your Adopt-A-Family donation for tax purposes. You will receive this letter after the completion of the program.
Can I donate used items?
We are sorry, but standard infection control and safety preclude us from accepting used items.