Astor Services for Children & Families is proud of its long affiliation with Catholic Charities of the Archdiocese of New York.
Since 1946 Catholic Charities has been a partner to Astor Services in the work that both organizations believe in so strongly: providing help and creating hope for those in need. We at Astor are proud of their confidence in the premier quality of our services, as shown by their unbroken inclusion of Astor in their network of affiliates throughout our more than sixty year relationship.
About Catholic Charities NY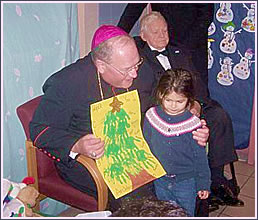 Catholic Charities collaborates with a network of affiliated agencies, both non-Catholic and Catholic, to build a compassionate and just society, and to deliver, coordinate, and advocate for quality human services and programs touching almost every human need.
Astor shares with Catholic Charities their belief that "all children deserve the opportunity to develop social skills, gain confidence and develop lasting values that will serve them as adults." Through a network of specialized services like those delivered by Astor, Catholic Charities "cares compassionately for the most vulnerable New Yorkers — non-Catholics and Catholics alike."
Learn More
Visit the Catholic Charities NY website
Read about Archbishop Timothy Dolan's visit to Astor's Lawrence F. Hickey Center for Child Development.
Cardinal Dolan visits Astor in Rhinebeck.