Bronx
Day Treatment Program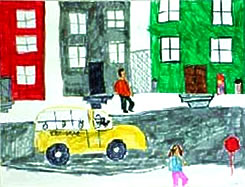 Astor's Day Treatment Program gives children, ages 5-14, the chance to thrive in a traditional school environment with the intensive support they need to overcome behavioral challenges. This program combines clinic treatment with educational services.
When children and adolescents graduate from day treatment, they re-enter public school and transition into appropriate school placement.
Target Population
This program serves children who are unable to attend classes in a regular school setting. They might have frequent and uncontrollable emotional outbursts, cannot cooperate with others, or withdraw socially, and they need the special attention we can provide.
Our curriculum is approved by the NYS Education Department and we are licensed by the NYS Office of Mental Health.
School-Based Initiative
The School-Based Initiative at Shakespeare School supports elementary school-age children who are experiencing problems adjusting to the daily routine of a traditional school environment. Services include classroom crisis intervention, assessment, consultation and advocacy. There are also supervised lunch groups for children who are unable to cope with daily structure.
Contact Us:
For more information or to make a referral to this program, contact:
Astor Bronx Day Treatment and School-Based Programs
750 Tilden Street
Bronx, NY 10467
Tel: (718) 231-3400

Additional Notes:
For more information about Astor's Bronx Community-based programs:
See also: