Astor's programs support families in their efforts to develop and strengthen the skills needed to keep their children at home. Equally important, we provide out-patient services to seriously emotionally disturbed children. We are located in the Williamsbridge Section of the Bronx to help Community Districts 10, 11 & 12.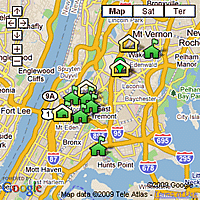 A list of our Bronx locations with addresses can be found here>>
Types of Services
Astor provides services through children's outpatient clinics, day treatment, a therapeutic nursery, family support, and a school-based initiative; a prevention program funded by the Administration for Children's Services is operated by Astor as well.
Contact Information
The preventive program is located at:
750 Tilden Street
Bronx, NY 10467
The main administrative site for Astor's behavioral health programs in the Bronx, NY is located at:
750 Tilden Street
Bronx, NY 10467
Phone: (718) 231-3400
Calls can also be made directly to Astor's behavioral health program located in the Highbridge section of the Bronx:
Phone: (71) 732-7080
For more information please read our Bronx Community-based Services brochure (PDF file)
For more information about Astor's Bronx Community-based programs:
See also: