On this page: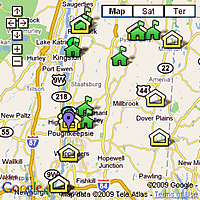 Astor has counseling centers located throughout Dutchess and Ulster counties in New York. Dutchess County clinics include: Poughkeepsie, Beacon, Wingdale, Hyde Park, and Rhinebeck. Satellites of these clinics are located in Wappingers Falls, Millbrook and Wingdale. Ulster County clinics include: Ellenville, Kingston, and New Paltz.
In addition, Astor provides a wide range of community-based educational and mental health programs in Dutchess, Orange, and Ulster Counties.
If you or a member of your family needs help, or to inquire about Astor's Dutchess Co. community-based services, please call the Dutchess County Helpline number:
(845) 485-9700
–or–
Toll Free: (877) 485-9700
or call a counseling center directly
Hudson Valley Counseling Center Locations
Family Driven Care
The youth and family voice are essential perspectives in all of our programming.
Astor youth can participate in one of our three age-grouped Youth Groups, where youth meet monthly to participate in skill building, advocacy and social activities.
Parents and caregivers of children in Astor's services are welcome to join our Parent/Consumer Advisory Board, which meets monthly. The Advisory Board members review and give input to agency policies and procedures, advocate and outreach for children's mental health services in the community, and provide support and networking for each other. Our goals include expanding opportunities for children and families for education, advocacy, social and recreational activities.
Learn more about Astor's Hudson Valley Community-based programs: